Soler & Palau TD-125 Inline Mixed Flow Fan - 5"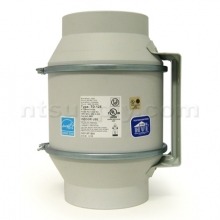 Click to Zoom
About This Bathroom Fan
| | |
| --- | --- |
| MFG: | Soler & Palau |
| MFG#: | TD-125 |
| Our#: | 175445 |
| CFM: | 133 CFM |
| Duct Diameter: | 5" |
| Grille Dimensions: | n/a |
| Mounting Opening: | n/a |
| Amp Draw: | 0.3 Amps |
| 1 Function: | Fan |
CLICK TO SEE OUR TD SERIES FAN INSTALLATION VIDEO

Soler & Palau TD-125 Inline Mixed Flow Fan - 133 CFM - 5"

Get the "best of both worlds" with S&P's TD Series inline fans! Combine the low noise characteristics of an axial fan and centrifugal fan performance at a value price!

The Soler & Palau TD series of inline duct fans have been specially designed to maximize the airflow performance with minimal noise levels within the smallest and most compact of housing sizes. This makes the TD series the ultimate solution for small to medium size ventilation installations which require a high airflow to pressure ration and occupy only the minimum space possible. Example: false ceiling voids, cabinets and many other limited space environments.

All models are include a "removable body" feature that enables the motor-impellor assembly to be completely removed or replaced without the need to interfere with attached ducting. All models incorporate a powerful mixed flow impeller and internal air vanes located at the discharge end of the fan housing. This impeller and guide vane combination provides smooth laminar air flow which in term minimizes turbulence and noise, and generates and excellent air flow to pressure performance ratio.

All TD models include speed controllable, 2-speed motor with permanently lubricated ball bearings.

Models TD 100, 100x, 125, 150 & 200x are double insulated and do not require an external ground wire

The TD series fans are perfect for:

Bathroom exhaust
Garage ventilation
Basement ventilation
Domestic range hood exhaust
Multi-room ventilation
EASY INSTALLATION:


SPECIFICATIONS:
Duct Diameter - 5"
Volts - 120
CFM Low Speed - 149 at 0" WG / 73 at .25" WG
CFM High Speed - 197 at 0" WG / 133 at .25" WG
Max Static Pressure - .55" WG
Weight - 4.4 lbs
Nominal RPMs Low Speed - 1633
Nominal RPMs High Speed - 2146
Max Watts on Hight Speed - 38 (24 on Low Speed)
Housing material - polypropelene
Fan blade material - ABS
Max Operating Temp - 104 degrees

Sound characteristics
Fan sound levels are measured in sones. At this time there are no sone level test standards available through HVI due to the fact that remote mounted fan noise levels are in proportion to the following: type of duct, length of duct, fan distance from the intake source and other miscellaneous factors. However, it is generally accepted that remote mounted venting is usually quieter than standard (in room) venting.

DIMENSIONS:

X = 7-3/8"
A = 10-3/16"
B = 6-15/16"
C = 4-1/2"
D = 4-13/16"
E = 3-15/16"
F = 3-9/16"
G = 3-1/8"
H = 2-3/8"
Easy to install (3)
Good power output (3)
Quiet (3)
Sleek design (3)
Easy To Install
Powerful
Quiet
Sleek Design
Comments about Soler & Palau TD-125 Inline Mixed Flow Fan - 5":
Fan is used to vent bathroom. Vents as described with an extremely low noise profile that you can hardly hear it. As a result, we let it run longer to vent the bathroom better.
Easy To Install
Powerful
Quiet
Sleek Design
Comments about Soler & Palau TD-125 Inline Mixed Flow Fan - 5":
This fan is the best way to go for bathroom exhaust; new installations, or remodel. It is much easier to install this great exhaust motor in a convenient remote location, than to wedge the large housing of a traditional exhaust fan in between joists, with its' associated duct. Most of my customers want dramatic results, and this fan gives it for smaller bathrooms. For larger bathrooms I use the 150.
Easy To Install
Powerful
Quiet
Sleek Design
Comments about Soler & Palau TD-125 Inline Mixed Flow Fan - 5":
Using to provide constant ventilation for basement in 80 year old house. Made a difference within days. Set it on high for the first few days and now leaving it on low. Pulling air into unit about 30" off the floor and venting out through side wall.
Shut off the dehumidifier when we turned this on........less moisture now.