Deluxe Vacancy / Occupancy Sensor Switch - White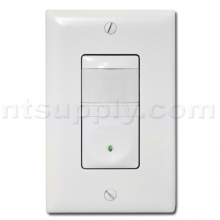 Click to Zoom
About This Product
| | |
| --- | --- |
| MFG: | P&S |
| MFG#: | RW3U600W |
| Our#: | 172922 |
ALSO AVAILABLE IN IVORY

Deluxe Vacancy / Occupancy Sensor Switch - White

People forget to turn things off - these sensors don't! Superior style and features make the P&S Vacancy / Occupancy Sensor a great choice for saving energy in bedrooms, bathrooms, garages, and laundry or utility rooms - and meeting energy conservation standards such as California Title 24.

The RW3U600 can be used as single pole or 3-way switches and can operate in vacancy sensor mode (manual on) OR occupancy sensor mode (auto on). They are ideal for any room with multiple entrances such as living and dining rooms, family rooms, bedrooms, bathrooms, hallways, and other indoor spaces where occupancy sensor-based controls are desirable.

The RW3U600 has 2 modes of operation - vacancy or occupancy sensor. While the sensor is factory preset as a vacancy sensor with manual ON operation, it can be adjusted to work as an occupancy sensor that turns the controlled load ON automatically upon detection of occupancy in the area.

In vacancy sensor mode, you can press the ON/OFF button to turn the light or fan ON and OFF like a standard switch. In occupancy sensor mode, the load will turn on automatically when the space becomes occupied. The RW3U600 automatically turns OFF the controlled load after the coverage area has been vacant for a period of time (Time Delay). If motion is detected within 30 seconds after it automatically turns OFF, the RW3U600 automatically turns the load back ON.

Lighted Switch - To help you locate the RW3U600 in a dark room, the green LED illuminates the ON/OFF button while the controlled load is OFF. When the controlled load is ON the LED is off.

Coverage Area - the RW3U600 has a maximum coverage range of 180 degrees and overage area of 600 square feet. The sensor must have a clear and unobstructed view of the coverage area. Objects blocking the sensors lens may prevent detection thereby causing the light to turn off even if someone is in the area.

FEATURES:
California Title 24 compliant.
Occupancy-based control plus multi-way operation.
Two or more RW3U600s connected together will allow enhanced coverage of the controlled space.
Works with most common residential lighting types.
Adjustable time delay of 15 seconds to 30 minutes.
Light level sensing prevents automatic ON of lights when adequate daylight exists.
Replaces three-way or four-way switches when used with other RW3U600s.
Lighted switch for visibility in darkened rooms.
Manual- or automatic-ON operation.
Adjustable light level setting of 10 to 150 fc (100 to 1500 lux).
Coverage: 180 degrees, max. 600 ft.2 (56m2).
cULus listed.
5-year warranty.
Load: Incandescent, fluorescent, compact fluorescent (CFL), magnetic low-voltage (MLV) and electronic low-voltage (ELV), 1/6 hp.
Requires neutral wire
Specifications:


Voltage - 120VAC, 60Hz
Load (Single Pole Circuit) - Incandescent or flourescent - 0-600 Watts / Fan Motor - 1/6 hp
Time Delay Adjustment - 15 sec, 5 min, 15 min, 30 min
Light Level Adjustment - 10fc to 150fc
Bottom panel slides down to reveal controls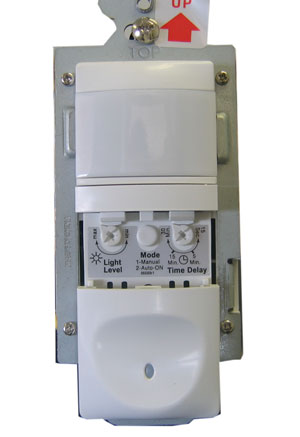 Reviewer Profile:
Homeowner (3)
Attractive
Controls adjustable
Easy To Install
Quiet
Works on FANS
Comments about P&S Deluxe Vacancy / Occupancy Sensor Switch - White:
It is not set off by reflection of shower door when someone passes by the door. And unlike some that are really made for lights, this on works great on the bathroom exhaust fan.
Comments about P&S Deluxe Vacancy / Occupancy Sensor Switch - White:
I put one of these sensors at each end of two stairways in my home using the occupancy mode. They ensure that the stairway is always lit when it is in use without having to find the switch. I set one so that it turns off after 15 seconds which is longer than the time you need to traverse the staircase. The other, I set to five minutes as it is the entrance from the garage so I need the longer time frame to make several trips to bring in groceries, etc.

One thing I would change would be to increase the switch's sensitivity to ambient light levels which would prevent the switch from activating in low level daylight. I would also like to see a sensor shield that would lessen the angle of view of the sensor. I was able to adjust mine with a piece of opaque tape.
Easy To Install
Powerful
Quiet
Sleek Design
Comments about P&S Deluxe Vacancy / Occupancy Sensor Switch - White:
This is the greatest thing, we have four cats and we installed this low to the ground so when they walk past it turns on the fan near the kitty litter box. It works great.