Panasonic WhisperCeiling 2-Speed Bathroom Fan FV-11VQD2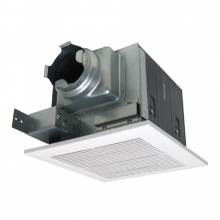 Click to Zoom
About This Bathroom Fan
| | |
| --- | --- |
| MFG: | Panasonic |
| MFG#: | FV-11VQD2 |
| Our#: | 111061 |
| CFM: | 70 CFM |
| Duct Diameter: | 4" |
| Sones (Loudness): | <0.3 |
| Grille Dimensions: | 11-3/16" x 11-3/16" |
| Mounting Opening: | 9-1/8" x 9-1/8" |
| Amp Draw: | 0.35 Amps |
| 1 Function: | Fan |
Panasonic 2-Speed Bathroom Fan FV-11VQD2
Hi: 110 CFM; 20 Watts
4.1 CFM/Watts: 1.0 sones

Lo: 70 CFM; 15.4 Watts
3.2 CFM/Watts: <3.0 sones

Duct Diameter (inches): 4"
Mounting Opening (inches sq.): 9 1/8"
Grille Size (inches sq.): 11 3/16"



Includes speed selection switch

So Quiet You Might Not Know it's On
This WhisperCeilingT model features a totally enclosed condenser motor and a large, double suction blower wheel to quietly move air. A small wheel turning very fast will create more noise than a large wheel turning more slowly for a given airflow. Our fan uses a wide blower wheel that moves a large amount of air at reduced RPMs. The blower wheel is also designed to draw air in from both sides, which helps keep the noise down, as there is more area for the air to enter the wheel. In fact, it is quiet enough that you might not even know it's on.

Continuous, Trouble-free Operation for Many Years
This fan is designed to give you continuous, trouble-free operation for many years thanks in part to its high-quality components and permanently lubricated motors which wear at a slower pace. Also, since heat is always detrimental to motor life (the cooler the environment, the longer the motor will last), we designed the electrical configuration of this model's condenser motor to allow it to operate at lower temperatures, increasing the life of the motor and bearings. And, the fan housing is made of heavy-gauge zinc galvanized steel and painted to protect it from rust.

User-Friendly Installation
Detachable adaptors, firmly secured duct ends, adjustable mounting brackets (up to 26"), fan/motor units that detach easily from the housing and uncomplicated wiring all lend themselves to user-friendly installation. This model also features a double-hanger bar system for ideal positioning.

Energy Star® Qualified for Energy Savings
Energy Star qualified products feature super-quiet operation and high CFM-to-Watt efficiency. The Energy Star program was created to help consumers identify products that can save them money and protect the environment by saving energy. As an Energy Star partner, all our fans are Energy Star qualified and labeled accordingly.

Tired of Cold Air Coming Through Your Ventilation Fan?
This Panasonic fan has a built-in damper to prevent backdraft, which helps to prevent outside air from coming through the fan. Also, thanks to our efficient, cool running motors and fluorescent bulbs, it does not create excessive heat-a common problem with recessed lighting fixtures and some competitors' fan/light combinations. Loose fill or batt insulation can be placed directly over the fan housing to prevent heat from escaping.

Comments about Panasonic WhisperCeiling 2-Speed Bathroom Fan FV-11VQD2:
I selected this fan because I had a narrow opening in my ceiling joints. This fan just fit. To make the width and length small, the fan is mounted vertically in the housing making it taller. This design makes the fan noisier than a similar fan mounted horizontally in the housing. For comparison, this fan is noisier on low speed than Pansonic's FV-08VQ3 operating at its single speed which is twice the air flow.This is a two-speed unit and a two speed switch is supplied. I, though, installed it with an existing switch for the fan it was replacing and hard wired it to only run at low speed. The noise of the unit at low speed is very quiet in the room it is taking air from, but it is not "silent" as some other fans are described. There was almost zero noise in the attic above the room where it was mounted. This fan does not transmit noise all over the house. I did not run it at high speed so I cannot comment on that noise level or performance. I use this fan to clear a 15 ft2 water closet/toilet room using only the low speed and it is more than adequate for the job.The unit is supplied with all needed mounting hardware except wire nuts. Installation instructions are clear and well illustrated. Installation took <2 hrs for the fan and another 45 minutes for ~10 feet of 4" dia. insulated ducting.This is a well made quality product. You will not be disappointed.
Powerful
Quiet
Sleek Design
Comments about Panasonic WhisperCeiling 2-Speed Bathroom Fan FV-11VQD2:
I had some problem because of our extra thick plastered ceilings. I had to change the electrical mounting box on the unit. Took some time, but I love the fan.