Suncourt -- 6" Duct Muffler (DM106)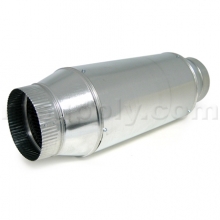 Click to Zoom
About This Product
| | |
| --- | --- |
| MFG: | Suncourt |
| MFG#: | DM106 |
| Our#: | 111138 |
The In-Line Noise Silencer Duct Muffler reduces furnace noise traveling to register grilles or from adjacent rooms and noisy neighbors up to 9dBA.



Duct Diameter: 6"

Unit Weight: 6.25 Lbs.

Does not restrict airflow through duct

Easy to install

Maintenence free

Housing Length: 24"

Building Code Compliant, Meets NFPA Standards 90A and 90B

UL Listed, Class I Air Duct

Noise Reduction: 10.2@250Hz, 18@500Hz, 23.1@1000Hz


FAQ's

Why do I need a DuctMuffler?

The DuctMuffler will reduce sound traveling through the ducts of a forced air system, i.e. loud music from adjacent rooms, snoring, speech and noise generated by the furnace blower.

How do I install a DuctMuffler?

Simply remove a section of air duct from the offending duct run and insert a DuctMuffler. The DuctMuffler is a heavy product and must be properly supported using duct support brackets available at your favorite Home Center.

How effective is a DuctMuffler?

The DuctMuffler will attenuate noise levels by almost 10 dBA. Please note that every 3 dBA in noise level reduction cuts your perception of noise by half.

Does the DuctMuffler affect airflow through my ducts?

No. The open bore of the muffler is the same as the duct in which it is installed. There are no baffles or barriers.

Does it require any maintenance?

No. No maintenance is required.

Does it require electricity?

No, the DuctMuffler is a passive device.

Merchant Services
BathroomFanExperts.com Price:
$72.92
Availability: In Stock
Easy To Install
Quiet
Sleek Design
Basements
Kitchens
Large Rooms
Smaller Rooms
Comments about Suncourt -- 6" Duct Muffler (DM106):
[...]
Easy To Install
Quiet
Sleek Design
Comments about Suncourt -- 6" Duct Muffler (DM106):
A great product that does what it is designed to do.
Service and delivery comments:
IAQsource always ships items promptly within a day or two. I really appreciate the promptness and will come back to IAQsource for further needs in the future.