Soler & Palau TD-200 Inline Mixed Flow Fan - 8"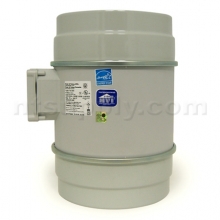 Click to Zoom
About This Bathroom Fan
| | |
| --- | --- |
| MFG: | Soler & Palau |
| MFG#: | TD-200 |
| Our#: | 175447 |
| CFM: | 458 CFM |
| Duct Diameter: | 8" |
| Grille Dimensions: | n/a |
| Mounting Opening: | n/a |
| Amp Draw: | 1.5 Amps |
| 1 Function: | Fan |
CLICK TO SEE OUR TD SERIES FAN INSTALLATION VIDEO

Soler & Palau TD-200 Inline Mixed Flow Fan - 458 CFM - 8"

Get the "best of both worlds" with S&P's TD Series inline fans! Combine the low noise characteristics of an axial fan and centrifugal fan performance at a value price!

The Soler & Palau TD series of inline duct fans have been specially designed to maximize the airflow performance with minimal noise levels within the smallest and most compact of housing sizes. This makes the TD series the ultimate solution for small to medium size ventilation installations which require a high airflow to pressure ration and occupy only the minimum space possible. Example: false ceiling voids, cabinets and many other limited space environments.

All models are include a "removable body" feature that enables the motor-impellor assembly to be completely removed or replaced without the need to interfere with attached ducting. All models incorporate a powerful mixed flow impeller and internal air vanes located at the discharge end of the fan housing. This impeller and guide vane combination provides smooth laminar air flow which in term minimizes turbulence and noise, and generates and excellent air flow to pressure performance ratio.

All TD models include speed controllable, 2-speed motor with permanently lubricated ball bearings.

The TD series fans are perfect for:

Bathroom exhaust
Garage ventilation
Basement ventilation
Domestic range hood exhaust
Multi-room ventilation
EASY INSTALLATION:

SPECIFICATIONS:
Duct Diameter - 8"
Volts - 120
CFM Low Speed - 476 at 0" WG / 373 at .25" WG
CFM High Speed - 538 at 0" WG / 458 at .25" WG
Max Static Pressure - 1.625" WG
Weight - 8.8 lbs
Nominal RPMs Low Speed - 2322
Nominal RPMs High Speed - 2781
Max Watts on Hight Speed - 184 (139 on Low Speed)
Housing material - polypropelene
Fan blade material - ABS
Max Operating Temp - 104 degrees

Sound characteristics
Fan sound levels are measured in sones. At this time there are no sone level test standards available through HVI due to the fact that remote mounted fan noise levels are in proportion to the following: type of duct, length of duct, fan distance from the intake source and other miscellaneous factors. However, it is generally accepted that remote mounted venting is usually quieter than standard (in room) venting.

DIMENSIONS:

X = 9-3/16"
A = 11-7/8"
B = 8-9/16"
C = 5-9/16"
D = 7-13/16"
E = 4-7/8"
F = 5-1/2"
G = 3-1/8"
H = 3-11/16"

Merchant Services
BathroomFanExperts.com Price:
$174.43
(Regular Price $206.00, You Save $31.57)
Availability: In Stock
Easy to install (3)
Good power output (3)
Quiet (3)
Reviewer Profile:
Homeowner (4), Avid do-it-yourselfer (3)
Comments about Soler & Palau TD-200 Inline Mixed Flow Fan - 8":
PROS: Compact, low price, quality construction. Blows some air! Easy to service and 2-speed motor.

CONS: NOISY! Although inlet and outlet airsteam noise is fine, fan unit itself gets noisy and hums, particularly at lower speeds and if flow is restricted. Fan unit does not seal to mounting flanges so it leaks air, moisture, and noise at this point.
Easy To Install
Powerful
Quiet
Comments about Soler & Palau TD-200 Inline Mixed Flow Fan - 8":
Had ceiling condensation in a 150sf bathroom; 50sf of that a walk-in closet. Installed 110cfm all-in-one with about 20ft of 4in to a gable vent with the ceiling unit over the toilet about 6ft from the shower. It didn't have enough oats to pull out the steam.

Installed the TD-200 in the attic with 5ft of 8in insulated flex duct to a 8x6x6 wye and another 10ft of 8in to a home-made box that dumps it at the back of the gable vent. Ran 3ft of 6in insulated flex to a Fantech adjustable ceiling register within a foot of the 2.5gpm Delta H2Okinetic shower head, Register is nearest the far corner of the shower to pull max air across the shower ceiling to clear the steam. Works great now but caused myself a velocity problem that had had to be sorted out.

We had just redone the bathroom and cut the 12x12 all-in-one into the ceiling and I didn't want to patch the ceiling just to cut in a round 6in register, so I removed the motor-fan assy and connected the second 6in wye port to a 4in reducer and then to the now-empty housing. The trouble started because the 4in caused quite a restriction that gve me a draft in the shower that wouldn't calm down unless I screwed the restricter plate in to the point it sounded like an F-14 on afterburner. Great - the decision to over-engineer with the TD-200 instead of taking a chance on a 125 or 150 was biting me.

Soler & Palau has good tech support that I used several times; one to steer me toward the model of Lutron fan speed controller that wouldn't kill the fan at Low or Medium (get the continuous style if you must; not the 3-speed kind that reduces the output voltage below what the fan needs). The electrical hum was as objectionable as the air velocity noise had been, so the next call was to ask if a more expensive controller would be quieter and the answer wasn't what I was hoping for.

My building commissioning engineer brother suggested a barometric damper to bleed some of the velocity by balancing the too-small 6in + 4in combination feeding the TD-200 monster. Then it hit me that before going that more-money route, I might be able to normalize things by turning the 4in duct into a 6in. Found a 3-section 6in adjustable starter collar at the hardware store, sealed the 4pm hole in the side, installed the collar on the top to minimize turbulance and extended the 6in duct to it.

PROBLEM SOLVED. The TD-200 on low speed clears more steam than the shower head and 2.5gpm body spray together can generate and both the breeze and noise are gone. No speed controller, either - I just used the low-speed terminals of the fan and all's well.

Just to make sure that we don't forget to turn the fan on, I ordered the Fantech FH-20 dehumidistat (identical unit from Ranco was shipped but it works fine) and mounted it near the ceiling outside of the shower so that it senses humidity as soon as it can. The one little nit about that is that I'll have to manually change the stat's set point as atmospheric humidity changes to make sure the fan doesn't either stay on or refuse to come on. A relay will let me hook both the stat and a regular on-off switch to it to turn it on manually when we need to while having the stat as a safety. I suppose that I could spend more money and put in a rig that would sense the differencen In bathroom humidity and the rest of the house to turn on the fan based on that, and then no more manual seasonal adjustments. Maybe some controls manufacturer or distributor will sponsor me with a setup like that in exchange for being a spokesmodel...
Easy To Install
Powerful
Quiet
Comments about Soler & Palau TD-200 Inline Mixed Flow Fan - 8":
We are using this product to blow air that is ducted from our basement(where our dehumidifier makes it very dry) up to some high windows (about 20 feet up) in our living room where we have had a humidity and condensation problem on sunny days. We could have solved the problem with a ceiling fan, but did not want to look at a fan so opted for this approach. It works well and is fairly quiet (loud enough that we know it is running, but not bothersome). The only tricky part for us is the setting on the dehumidistat we are using to turn it on and off. We still haven't got the location and setting of the dehumidistat quite right, but that is not the fault of the fan.
Easy To Install
Powerful
Quiet
Comments about Soler & Palau TD-200 Inline Mixed Flow Fan - 8":
We are remodeling our kitchen and wanted something different to vent the range. We installed duct in the wall behind the stove and installed the fan on the other side in the garage. It works great and is very quiet. Much better than a hood.