Panasonic WhisperCeiling Bathroom Fan FV-40VQ4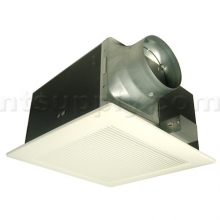 Click to Zoom
About This Bathroom Fan
| | |
| --- | --- |
| MFG: | Panasonic |
| MFG#: | FV-40VQ4 |
| Our#: | 111060 |
| CFM: | 380 CFM |
| Duct Diameter: | 6" |
| Sones (Loudness): | 3 |
| Grille Dimensions: | 17-11/16" x 17-11/16" |
| Mounting Opening: | 14-3/4" x 14-3/4" |
| Amp Draw: | 0.92 Amps |
| 1 Function: | Fan |
Panasonic Bathroom Fan FV-40VQ4 (replaces model FV-40VQ3)
380 CFM; 112.2 Watts
3.4 CFM/Watts: 3.0 sones

Duct Diameter (inches): 6"
Mounting Opening (inches sq.): 14 3/4"
Grille Size (inches sq.): 17 11/16"

So Quiet You Might Not Know it's On
This WhisperCeilingT model features a totally enclosed condenser motor and a large, double suction blower wheel to quietly move air. A small wheel turning very fast will create more noise than a large wheel turning more slowly for a given airflow. Our fan uses a wide blower wheel that moves a large amount of air at reduced RPMs. The blower wheel is also designed to draw air in from both sides, which helps keep the noise down, as there is more area for the air to enter the wheel. In fact, it is quiet enough that you might not even know it's on.

Continuous, Trouble-free Operation for Many Years
This fan is designed to give you continuous, trouble-free operation for many years thanks in part to its high-quality components and permanently lubricated motors which wear at a slower pace. Also, since heat is always detrimental to motor life (the cooler the environment, the longer the motor will last), we designed the electrical configuration of this model's condenser motor to allow it to operate at lower temperatures, increasing the life of the motor and bearings. And, the fan housing is made of heavy-gauge zinc galvanized steel and painted to protect it from rust.

User-Friendly Installation
Detachable adaptors, firmly secured duct ends, adjustable mounting brackets (up to 26"), fan/motor units that detach easily from the housing and uncomplicated wiring all lend themselves to user-friendly installation. This model also features a double-hanger bar system for ideal positioning.

Energy StarŽ Qualified for Energy Savings
Energy Star qualified products feature super-quiet operation and high CFM-to-Watt efficiency. The Energy Star program was created to help consumers identify products that can save them money and protect the environment by saving energy. As an Energy Star partner, all our fans are Energy Star qualified and labeled accordingly.

Tired of Cold Air Coming Through Your Ventilation Fan?
This Panasonic fan has a built-in damper to prevent backdraft, which helps to prevent outside air from coming through the fan. Also, thanks to our efficient, cool running motors and fluorescent bulbs, it does not create excessive heat-a common problem with recessed lighting fixtures and some competitors' fan/light combinations. Loose fill or batt insulation can be placed directly over the fan housing to prevent heat from escaping.

Merchant Services
BathroomFanExperts.com Price:
$396.75
Actual price available in cart
Availability: 1 Week To Ship
Easy To Install
Functional
Sturdy
Residential
Whole House Vent Fan
Comments about Panasonic WhisperCeiling Bathroom Fan FV-40VQ4:
This is a big, not real quiet fan. Takes up a large chunk of your ceiling. It is not Panasonic's quietest fan, but it moves a lot of air, as it is supposed to. Being usd as a house vent fan to meet code requirements for whole house ventilation. Does that job very well. In a remodel, or even new construction, the 6" air duct & vent will take up a lot of space in your attic. Both contractor & electricians thought the quality was excellent.
Easy To Install
Functional
High cfm
High quality
Powerful
Quiet
Kitchen
Master Bathroom
Residential
Ventilation
Comments about Panasonic WhisperCeiling Bathroom Fan FV-40VQ4:
Bought this, for the 10yrs builder grade replacement in the master bath, at 380cfm this thing moved alot of air, and very quiet, must pull 6" duct for retrofit, expensive, but well worth every pennies. I love this fan, wish I could have this thing when they build our home. Just buy it, it a must have for master bath. You only need to turn it on, when you in the shower, and turn it off when you done shower, no need to leave it on for 15-30mins to vent, that how powerful this thing was, a warning though, it will cause your heat/ac running more, if you leave this fan run, unattended, because it so powerful. recommended only use if needed. I'm very happy with the performance of this fan, so no complain here.
Comments about Panasonic WhisperCeiling Bathroom Fan FV-40VQ4:
It was so quiet that the electrician who installed it couldn't tell if it was running or not. Neither could the building inspector!
Comments about Panasonic WhisperCeiling Bathroom Fan FV-40VQ4:
as designed the electric box wont allow mounting in an existing drywall ceiling. Box should have been part of the assembly so it can slide into the mounting hole.