BathroomFanExperts.com
> Panasonic WhisperGreen Continuous Operation Bathroom Fan with Motion Sensor and Lights - FV-13VKML3
Panasonic WhisperGreen Continuous Operation Bathroom Fan with Motion Sensor and Lights - FV-13VKML3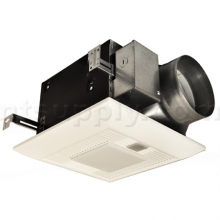 Click to Zoom
About This Bathroom Fan
| | |
| --- | --- |
| MFG: | Panasonic |
| MFG#: | FV-13VKML3 |
| Our#: | 176822 |
| CFM: | 130 CFM |
| Duct Diameter: | 6" |
| Sones (Loudness): | 0.3 |
| Grille Dimensions: | 13" x 13" |
| Mounting Opening: | 10-7/8" x 10-7/8" |
| Amp Draw: | 0.01 Amps |
| 3 Functions: | Fan, Light, Nightlight |
CLICK HERE TO VIEW PRODUCT VIDEO

Panasonic WhisperGreen Continuous Operation Bathroom Fan with Motion Sensor and Lights - FV-13VKML3

CFM: 50-130
Sones: < 0.3 to 0.3
CFM / Watt: 6.6 - 12.5
6 Year Warranty on DC Motor
Duct Diameter (inches): 6"
Mounting Opening (inches sq.): 10 7/8"
Grille Size (inches sq.): 13"
Overall Dimensions: (H x W x D) 13" x 13" x 7 2/5"
Lamp Watts: 1 x 32 with 4 watt night light
This fan is designed to run continuously ensuring a healthy climate at low CFM levels 24 hours a day. NOTE: This NEW model can also be configured for spot (non-continuous) ventilation!! This fan is also built to take care of the homeowners spot ventilation needs when the room is occupied. This fan kicks-up to a maximum level of 130 CFM when the switch is turned on or activated by the SmartActionT Motion Sensor. A High/Low Delay Timer, located inside the fan unit, is utilized to return the fan back to the pre-set continuous ventilation mode (or off altogether).


SmartActionTM Motion Sensor
Activates when someone enters the room, eliminates the need to manually turn the fan on or off.
Constant CFM Performance
This WhisperGreenT model features built-in intelligence called SmartFlowT Optimum CFM Technology. This unique "electronic-brain" lets the fan do what was once thought to be impossible, perform at a constant CFM regardless of elbows and other factors that might hinder performance. Basically, when a WhisperGreenT fan faces static pressure, its speed is automatically increased to ensure that the desired CFM is actually achieved. This allows the fan to perform as rated and makes for easier installation because the installer no longer has to worry as much about compromising the fan's performance. Uses ultra energy-efficient DC motor.
DC Brushless Motor

Panasonic's DC brushless motor provides unparalleled energy efficiency with its magnetic rotor and print circuit board. The magnetic rotor prevents energy loss while the print circuit board incorporates a unique IC chip which monitors and directs the RPM of the fan blade. The combination of these two unique features allows the DC motor to have higher energy efficiency than an AC motor.

Variable Speed Control
This fan is equipped with a CustomVentT Variable Speed Control. This allows the fan to run continuously at a pre-set lower level of 50-110 CFMs that can then be elevated to a maximum of 130 CFMs when the switch is turned on, or via the SmartActionT Motion Sensor. A High/Low delay timer(adjustable from 30 seconds - 60 minutes), will then return the fan to the minimum CFM level after a period of time set by the user.
So Quiet You Might Not Know it's On
This WhisperCeilingT model features a totally enclosed condenser motor and a large, double suction blower wheel to quietly move air. A small wheel turning very fast will create more noise than a large wheel turning more slowly for a given airflow. Our fan uses a wide blower wheel that moves a large amount of air at reduced RPMs. The blower wheel is also designed to draw air in from both sides, which helps keep the noise down, as there is more area for the air to enter the wheel. In fact, it is quiet enough that you might not even know it's on.

Continuous, Trouble-free Operation for Many Years
This fan is designed to give you continuous, trouble-free operation for many years thanks in part to its high-quality components and permanently lubricated motors which wear at a slower pace. Also, since heat is always detrimental to motor life (the cooler the environment, the longer the motor will last), we designed the electrical configuration of this model's condenser motor to allow it to operate at lower temperatures, increasing the life of the motor and bearings. And, the fan housing is made of heavy-gauge zinc galvanized steel and painted to protect it from rust.
User-Friendly Installation
Detachable adaptors, firmly secured duct ends, adjustable mounting brackets (up to 26"), fan/motor units that detach easily from the housing and uncomplicated wiring all lend themselves to user-friendly installation. This model also features a double-hanger bar system for ideal positioning.
Energy StarŽ Qualified for Energy Savings
Energy Star qualified products feature super-quiet operation and high CFM-to-Watt efficiency. The Energy Star program was created to help consumers identify products that can save them money and protect the environment by saving energy. As an Energy Star partner, all our fans are Energy Star qualified and labeled accordingly.
Tired of Cold Air Coming Through Your Ventilation Fan?
This Panasonic fan has a built-in damper to prevent backdraft, which helps to prevent outside air from coming through the fan. Also, thanks to our efficient, cool running motors and fluorescent bulbs, it does not create excessive heat-a common problem with recessed lighting fixtures and some competitors' fan/light combinations. Loose fill or batt insulation can be placed directly over the fan housing to prevent heat from escaping.


Reviewer Profile:
Homeowner (3)
Easy To Install
Powerful
Quiet
Comments about Panasonic WhisperGreen Continuous Operation Bathroom Fan with Motion Sensor and Lights - FV-13VKML3:
There is no more condensation on the mirror or our walls in the bathroom (regardless of a hot shower). It's quiet and works so well.
Powerful
Quiet
Very nice hardware pkg
Comments about Panasonic WhisperGreen Continuous Operation Bathroom Fan with Motion Sensor and Lights - FV-13VKML3:
This is a great fan, with a couple of odd omissions. The fan is well packaged and installation went fine. I was doing a retrofit and removed a recessed light to install the fan. I hard wired the actual fan to the power source and had to run an extra 12-3 cable to get the wires for the light and the night light.

However, finding the right setting for the fan takes some trial and error.

Now that I've had a couple of days with this, there are 3 things I would change. 1. The motion sensor needs to have a settable motion field. This is over my shower and I would like it not to come on when I'm shaving at my sink, but I can't find a way. 2. The night light should have a sensor that shuts it off if the main light is on or the lights in the bathroom are on. 3. I would like the fan to run until the humidity is out of the bathroom so I should have bought one with a humidity sensor.

So, nothing is wrong. Its a great fan. But knowing what I know now, I'd ditch the night light all together and swap out the fan timer for a humidity sensor.
Cardboard template cutout
Easy To Install
Quiet
Sleek Design
Comments about Panasonic WhisperGreen Continuous Operation Bathroom Fan with Motion Sensor and Lights - FV-13VKML3:
Used product in tight house with moisture issues. Installed to ASHRAE 62.2 standards. Has adjustable cfm exhaust for continuous operation.
The light stays on
When powering down
Comments about Panasonic WhisperGreen Continuous Operation Bathroom Fan with Motion Sensor and Lights - FV-13VKML3:
The light stays on when the fan goes into its low setting.