Fantech FR250 Inline Centrifugal Fan - 600 CFM
Click to Zoom
About This Bathroom Fan
| | |
| --- | --- |
| MFG: | Fantech |
| MFG#: | FR250 |
| Our#: | 111071 |
| CFM: | 600 CFM |
| Duct Diameter: | 10" |
| Grille Dimensions: | n/a |
| Mounting Opening: | n/a |
| Amp Draw: | 2.4 Amps |
| 1 Function: | Fan |
In line duct fan (for round ducts), made of an Engineered Thermoplastic Resin UL listed for outdoor use or in wet locations. Direct drive external rotor motorized impeller assembly. True airfoil backward curved wheel. Installs in any orientation.
Fits 10" Diameter Duct
CFM at 0" WC - 649
CFM at .2" WC - 600
Amps - 2.4
Watts - 146-248
Easy to install. Loaded with features
Prewired and supplied with a mounting bracket for easy installation
Available singularly with bracket or in a variety of kits for specific applications. Each kit includes the appropriate fan and accessories
Tested and approved by UL and CSA (or equals)
Approved for residential and commercial applications and for wet locations
Suitable for airstream temperatures up to 140° F
Easy connection using external wiring box with waterproof gasket
100% speed controllable
Five-year factory warranty
Versatility and Value
Fantech's versatile FR Series fans feature a plastic housing constructed of UL-recognized, UV-protected thermoplastic resin. This tough protective shell allows the fan to be mounted in outdoor and wet locations.* Ideal for multiple point exhaust, dual bathroom exhaust, or new room additions, Fantech's FR Series fans are caulked at the motor screws, the wiring cables and along the seams of the fan to prevent moisture from entering the housing. Fantech's FR Series fans have long been the choice of residential builders and remodelers but now can be used for commercial projects with our recent UL commercial applications rating.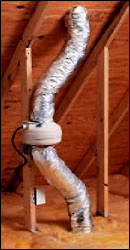 Typical attic installation.
* The FR Series is not manufactured to operate with water running through the motor compartment, or to be used in applications where the fan would be buried underground. A UL-recognized waterproof conduit should be used for all outdoor applications to prevent moisture entry via knockout in wiring box.

Merchant Services
BathroomFanExperts.com Price:
$240.56
Availability: In Stock
Easy To Install
Powerful
Quiet
Sleek Design
Basements
Kitchens
Large Rooms
Smaller Rooms
Comments about Fantech FR250 Inline Centrifugal Fan - 600 CFM:
I am an engineer and a prof. contractor. I hope that my opinion counts for some thing, but can say that i always like to use products that work. This fan does a great job at pulling a large volume of air (i.e air changes) an hour even with some larger than recomended spaces. And, with the plastic housing it is very quite. This is my second fan and again well worth the investment and time to install.
Easy To Install
Powerful
Quiet
Sleek Design
Comments about Fantech FR250 Inline Centrifugal Fan - 600 CFM:
Live in a house that one side was warm and the other side was cold, very poor circulation. A/C system was determined to be working properly and ducts were clear of any obstructions and no leaks.
tried other "booster" type of fan that were passive and they did not help at all! Called fantech factory rep. was told this will do the job because it is centrifugal, not passive, meaning the cfm rating on the box is exactly what it will generate unlike passive fans that only boost 5-10 percent of the cfm rating on their box! This fan solved my problem, now my house has balanced air circulation. cool in all rooms!