Fantech FR160 Inline Centrifugal Fan - 260 CFM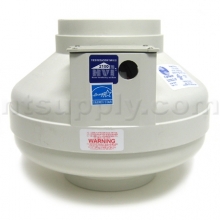 Click to Zoom
About This Bathroom Fan
| | |
| --- | --- |
| MFG: | Fantech |
| MFG#: | FR160 |
| Our#: | 111040 |
| CFM: | 260 CFM |
| Duct Diameter: | 6" |
| Grille Dimensions: | n/a |
| Mounting Opening: | n/a |
| Amp Draw: | 1.14 Amps |
| 1 Function: | Fan |
In line duct fan (for round ducts), made of an Engineered Thermoplastic Resin UL listed for outdoor use or in wet locations. Direct drive external rotor motorized impeller assembly. True airfoil backward curved wheel. Installs in any orientation.
Fits 6" Diameter Duct
CFM at 0" WC - 289
CFM at .2" WC - 260
Amps - 1.14
Watts - 103-130
Easy to install. Loaded with features
Prewired and supplied with a mounting bracket for easy installation
Available singularly with bracket or in a variety of kits for specific applications. Each kit includes the appropriate fan and accessories
Tested and approved by UL and CSA (or equals)
Approved for residential and commercial applications and for wet locations
Suitable for airstream temperatures up to 140° F
Easy connection using external wiring box with waterproof gasket
100% speed controllable
Five-year factory warranty
Versatility and Value
Fantech's versatile FR Series fans feature a plastic housing constructed of UL-recognized, UV-protected thermoplastic resin. This tough protective shell allows the fan to be mounted in outdoor and wet locations.* Ideal for multiple point exhaust, dual bathroom exhaust, or new room additions, Fantech's FR Series fans are caulked at the motor screws, the wiring cables and along the seams of the fan to prevent moisture from entering the housing. Fantech's FR Series fans have long been the choice of residential builders and remodelers but now can be used for commercial projects with our recent UL commercial applications rating.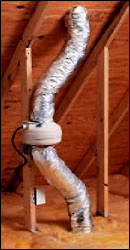 Typical attic installation.
* The FR Series is not manufactured to operate with water running through the motor compartment, or to be used in applications where the fan would be buried underground. A UL-recognized waterproof conduit should be used for all outdoor applications to prevent moisture entry via knockout in wiring box.

Merchant Services
BathroomFanExperts.com Price:
$162.33
Availability: In Stock
As rated
Easy To Install
Sleek Design
Comments about Fantech FR160 Inline Centrifugal Fan - 260 CFM:
easy to install
Easy To Install
Powerful
Sleek Design
Comments about Fantech FR160 Inline Centrifugal Fan - 260 CFM:
I am using this fan to bring warm air INTO my cabin from a sunspace, controlled with the RY-1-BA relay and a thermostat. It is effective, but in this mode it naturally directs not only air but also it's own noise into the cabin. This would likely be GREAT in the application as an extractor fan for a bathroom since any noise would be directed OUT of the room.