3" X 25' Insulated Flex Duct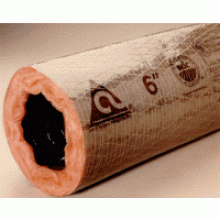 Click to Zoom
About This Product
| | |
| --- | --- |
| MFG: | 3M |
| MFG#: | A3F |
| Our#: | 176861 |
3" X 25' Insulated Flex Duct - Box of 25 Feet - UPC #070. R Value 4.2


Insulated flexible ductwork is easy to work with and prevents condensation problems when duct is run through unfinished spaces (attics, crawls, etc). The insulated jacket also provides sound-dampening benefits to reduce fan/blower noise.

A double lamination of tough polyester which encapsulates a steel wire helix forms the air-tight inner core of the ATCO #070. The double-layer core of each product is wrapped in multiple thicknesses of fiberglass insulation. All three products are sheathed in a rugged and durable tri-directional reinforced, grey polyester jacket. We recommend that you check with the local code body having jurisdiction in your area to determine applicable codes.

ATCO #070 is designed for indoor use as a supply and return air duct in residential and commercial low-to-medium pressure heating and air conditioning systems. It can be used as a complete air duct system and/or a branch duct connecting to mixing boxes, diffusers, light troffers, room inlets, or other terminal devices.

Comments about 3M 3" X 25' Insulated Flex Duct:
I used this for a Bath Room fan in our basement.
Easy to use, Met all my needs.
Would like a smaller option. 18 ft left over........