Ventergy IAQ-DSVS Continuous Supply System - 4 Port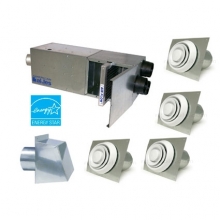 Click to Zoom
About This Product
| | |
| --- | --- |
| MFG: | American Aldes |
| MFG#: | 25 252 |
| Our#: | 176185 |
Ventergy IAQ-DSVS Continuous Supply System - 4 Port - IAQ-DSVS 100/333

The DSVS is designed to filter and distribute incoming fresh air, and prevent the introduction of contaminants as a result of unwanted infiltration through leaks in the building's envelope. By slightly pressurizing the structure, the DSVS also reduces the risk of back-drafting heating appliances, water heaters and fireplaces. This kit allows you to distribute fresh air into four supply points in the home.

This System Includes:

(1) DSVS-100 EnergyStar Rated Ventilator Fan
(4) Constant Airflow Regulator
(1) 4" Exterior Wall Hood for Air Intake
(4) 3" ALGrille Diffuser with Mounting Sleeve

Ventergy Series® fans represent years of engineering development to combine the energy efficiency and sound performance of a forward curved fan, with the durability and pressure characteristics of a backward inclined impeller fan.

DSVS distributed supply air ventilators are highly versatile continuous duty rated units for residential applications, and meet ENERGY STAR efficiency criteria for low energy consumption. The DSVS ventilator fan uses a quiet, continuous duty, energy efficient external rotor motor with permanently sealed bearings that provide many years of maintenance free performance.

It features a permanent, washable filter and a quiet continuous-duty external rotor motor with permanently sealed bearings, which provide many years of maintenance-free performance.
Fan Controls: The fan can be operated manually, or automatically by a programmable timer, dehumidistat, or other appropriate electronic switch device. The fan may also be operated in conjunction with a ariable speed control.

Airflow Controls and Balancing: Each fresh air duct takeoff includes an automatic self-balancing airflow regulator that ensures precise flow rates independent of duct lengths. A passively controlled element in each duct run inflates or deflates automatically in response to system pressure to maintain specified airflow rates.

Locating and Installing the Fan: The compact dimensions and versatile mounting options permit installation above drop ceilings, between ceiling joists, or within a small soffit location. They can be installed either horizontally or vertically.
Specifications:
Nominal RPM - 3135
HP - .05
Volts - 120
Watts - 37
Max Amps - .32
CFM at 0" Static Pressure - 130
CFM at .2" Static Pressure - 110



Merchant Services
BathroomFanExperts.com Price:
$429.95
(Regular Price $525.00, You Save $95.05)
Availability: 1 Week To Ship